"); //document.write(""); document.write(""); // -->

SSL Certificates
Do you need SSL?

If you use
iCharge xServ
as your integration method you'll need SSL because xServ is a server-side API and you need to provide your own user interface for credit card entry.
If you use
iCharge jServ
or
iCharge JX
as your integration method, SSL is highly recommended. While technically not required for security, it's important for user perception. iCharge jServ and JX communicate directly to the iCharge server over an SSL connection even if your page is not secure. However, users will be reluctant to enter their credit cards on a page seen to be non-secure. Therefore you'll need SSL on your own page just to allay this concern. This page itself is an example.
If you use
iCharge Web Classic
, you don't need SSL because the user enters credit card details in a separate page hosted by the iCharge server, which is already SSL-enabled.
Of course you're also welcome to take advantage of our great value pricing to purchase SSL for any other purpose.
Why pay more?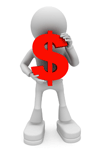 You can easily spend hundreds of dollars a year for an SSL certificate. We provide
RapidSSL
Certificates for only
AUD 45.00 per year
. Save even more by purchasing for multiple years. Prices are in the
order form
.
High cost providers charge a premium because they have a more established brand. Our low cost SSL is just as secure and performs just as well as others costing many times more. It provides everything you need except the high price tag.
RapidSSL performs 128-bit to 256-bit encryption, depending on capability of the user's browser.
RapidSSL is recognised by 99+% of browsers*

* SSL providers never claim 100% browser compatibility because very old or uncommon browsers with missing root certificates still exist on the Internet.
Supported by most common (and less than common) web servers including Apache, Microsoft IIS, IBM HTTP Server, and more...


[+]

RapidSSL is a subsidiary of GeoTrust, an internationally recognised Certificate Authority, and is backed by GeoTrust's global infrastructure.
RapidSSL is truly rapid. We can turnaround an order in 24 hours. Great if you're in a hurry. Please see Certificate Delivery Process for the steps involved to understand the dependencies
The certification process is highly automated or online self-serviced, eliminating unnecessary bureaucracy, paperwork and manual intervention.
How your Certificate is ordered and delivered
Submit and pay for the order using the form above.
In the meantime, generate a Certificate Signing Request (CSR) file on your webserver*. See instructions specific to your webserver type. The CSR file is a small text file that you should save for the next step. It looks something like this:

[+]

.
When you receive an email from RapidSSL. Follow the link to complete the order. The steps include submitting the CSR saved from the previous step.
An email will be sent to the registered administrator of your domain, who may or may not be you. This person must follow the link in this email to approve or reject the certificate request. If not you, give your domain administrator a heads up to action the approval, or else your order will be held up. Your domain administrator is shown in the previous step.
After your domain administrator has approved the certificate request, you will receive an email with the SSL certificate. Copy the text and save it on your webserver*. The certificate looks something like this:

[+]

.
Install the certificate on your webserver*. See instructions specific to your webserver type.
When successfully installed, your webserver is enabled for SSL. You can test by accessing a page with a https://... URL.
* Note:
You may need to consult your site administrator or tech support to perform these steps. If you are not sure of anything, please contact us. While we're not able to administer your website for you, we'll be happy to provide general advice if you are stuck.